Umm....
seriously?
ME??!!
A flower girl??!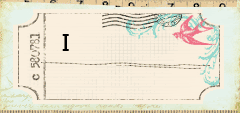 I really get to display that blinkie!
I am so excited!
I mean really...I'm so excited I can't sit still!
This is a DREAM come true!
I
honestly, seriously, really, truly
...
CANNOT believe my name is in that list of extremely talented ladies!
I'm not seeing things, am I??!
Thank you
Prima
,
thank you!
Check out the
BLOG
for the announcement
and....
Just
LOOK
at this list of inspirational girls:
When I got the news from Sharon that I made the
team, I was just like a little girl who'd just woken
up to see the gift of her dreams on Christmas morning.
I ran through my house literally jumping up and down,
screaming with joy.
The dogs were barking & I watched as my husband
looked at me with b
ewilderment.
you know, that deer in headlights look?
yeah. He had that. ha!!
When I finally stopped jumping up & down,
he looked at me & said
"Congrats, let's go celebrate!"
We went to dinner with friends
and it was a LOVELY evening.
just what I needed.
this has been such a wonderful week.
a week I TRULY needed.
I feel quite blessed.
Have a beautiful day!
xoxo,