remember when I told you to look around my blog to see if you saw
anything that was a "clue" of some sort?
It looks a little, ok ALOT like this: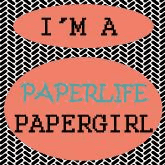 YAY!!
I can finally share this news!
(click...read it, because I STILL cannot BELIEVE that's MY name there!)
and if you're wondering what that's all about:
you can go here:
http://www.talkshoe.com/tc/81946
to call in and chat!
so bookmark it now :D
EXCITING to say the least, right?
I can't WAIT!
I'll leave you today with a little sneak of
something fun coming up:
xoxo...
~me.